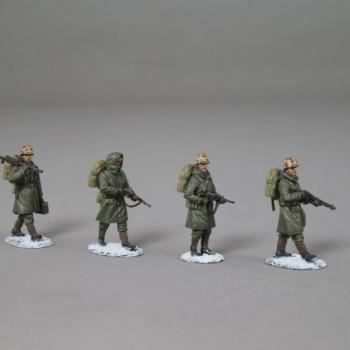 The latest products and news from deep in the Bunker...October 19.
October 21, 2021
The latest products and news from deep in the Bunker...October 19.
Good evening. We have been quit busy here and I did not have a chance to fire off an email last week. So here you go. Maybe I will even get a second one together later in the week, unless I stay up to late watching these Red Sox games.
Toy Soldiers: John Jenkins Designs, King and Country and Thomas Gunn Miniatures sets are all ready to order for Octobers releases. No need to pre-order at this point. The second set of Waterloo 1815 1/32 US . The LOD sets: AWI Cavalry and Merrymen and others are mostly out of stock now but more are coming. There is a second set of AWI Cavalry coming that has 1 pose with a pistol in it(LOD049). New pricing yet on it. Publius has been received. The Hat Industrie Italians (1/72) and 7 Years War Austrians (1/32) along with some restocks have been shipped.
GAMES: We have lots of restocks coming. Victrix, Warlord Games and rules/miniatures from Northstar. We also have some terrain from Novus Designs and some cool Crystal Cast dice on the way to us. The new Warhammer 40K Black Templars Boxed set is here along with a ginat restock. FREE RPG Day was a success. We sill have some freebies to give out while supplies last. Stop by and grab a free game.
MODELS: Just our regular supply of restocks arriving Friday. We just picked up a 2nd batch bunch of 1/72 Scale Matchbox< Fujimi and other vintage kits.
Interested in painting miniatures? We have a handful of guys painting miniatures on Thursday night. Stop by with your brush, to chat or show off your work. We are offering a paint night every Thursday, $20 gets you a Troll Mini, Paints and a brush.
SHOWS: New Jersey Toy Soldier Show - Saturday, November 6th from 9AM-3PM. The Crowne Plaza, 50 Kenny Place Saddlebrook, NJ. We will be there.
Confirmed -We will be at Historicon In Mid-November in King of Prussia, PA
The LIHMS Show in Long Island is booked for Friday 6-9PM on 11/19 and Saturda Nov. 20th 9AM-3PM and we will be there. Freeport Rec Center, Freeport, NY. We will be there.
The Virginia Show is December 4th - At this point it is a 50/50 chance if we can attend.
The WEST COAST TOY SOLDIER is booked. February 27, 2022. Save the Date!
Anaheim, CA at the Delta Hotel.
---